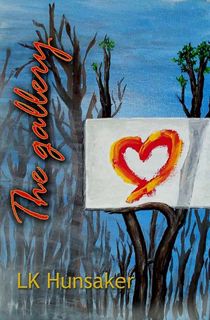 I was tagged by my friend, LK Hunsaker, to join this writing process chain. I love answering questions and talking about writing, so I happily joined in! Just be forewarned; this may get long.

LK Hunsaker is the author of many books, including The gallery, which was released last year. I actually reviewed The gallery here earlier this year. You can also read about her writing process here. LK has been a big inspiration for me ever since I met her in 2011. She's given me hope that I actually can finish and release my own books.

Onto the questions!




~

What are you working on at the moment?
I'm mainly working on the second drafts of two books, Dreaming in Shadow & Magic Inc. Book One. I've written a lot about Dreaming in Shadow here, but since then, I've finished the first draft. The second draft is coming along well, but it has been a lot of work! On the other hand, Magic Inc.'s second draft has flowed easily most of way through. I've still put a ton of time and effort into it, and I'm currently much further along with it than Dreaming in Shadow, even though I'm planning to release DiS first. These stories are both incredibly close to my heart, and they've gotten me through really hard times. There's a part of me still scared to reach the point where I send these extremely personal stories out into the world, but I'm trying to focus on the excitement of writing and sharing the gift of these stories with other people.

On the side, I'm also working on finishing the very end of the first draft of Miss Masquerade, and the beginning of my newest story, The Town of Raindrops. And then, there are literally a hundred other stories in my head, all in this same same universe. No, seriously, you should see my story list. And those are just the ones with titles. Sometimes, I feel like I have a curse of abundance, because I'll never be able to write all these stories in my lifetime.

How does your work differ from others in the genre?
That's an interesting question. There's a lot of YA Fantasy/Romance out there. And I certainly find they tend to focus more on the characters, much like I do, than Adult Fantasy. So, I feel like I'll fit pretty well into that genre. But I do think my plans to include a lot of real teen and young adult issues are something different. A lot of my books will deal with bullying, anxiety, depression, and sexuality, among other issues. I hope to eventually show a variety of characters, and cover some things that professional publishing seems to shy away from. I want to give a voice to those who struggle with feeling different and misunderstood. These are some lofty goals, and to be honest, I'm quite nervous I won't ever reach them. But I believe I was given these stories for a reason, so I will do my absolute best to give them life.

Why do you write what you do?
I've always focused on fantasy, because that's where my soul dreams. I see (and write) magic as a manifestation of strong emotions. My emotions have always been extreme and passionate. Writing characters with the ability to effect the world with their thoughts and energy is an amazing release for me. When it comes to the relationships, I'm just a hopeless romantic. I write about soulmates because I really believe they exist. That doesn't mean everything will be perfect all the time or that those relationships don't take work. And well, there has to be a story to tell, right? Throw magic in with that, and things can get extremely complicated. Still, I believe everyone has person made for them out there, so that's what I write.

How does your writing process work?
I touched on this a bit in my previous entry, but I'll go more in depth here. Way more.

Usually, a new story idea comes to me through a dream or listening to some new music. Occasionally, I get an idea from watching or reading other stories. Recently, I've expanded into finding myself getting attached to sims I've made up personal stories for during the playing of The Sims 2 and turning them into real characters. Whichever way it comes to me, I'm often totally obsessed with a new idea when it comes to me. Well, first, I think, 'Another story idea? How on Earth am I going to be able to get to another new story?' Then, I obsess over how much I love it, and how much I absolutely need to write it. And I struggle with the desire to drop everything else and start the story right away. But I don't, because I've learned that rarely works out for me. So, I just obsess quietly about this new idea, and watch as it blossoms almost by itself. I feel very guided during this time and the rest of the planning stages. It's like the story and characters know themselves completely, and I'm just getting to know them along the way.

Once the obsessive stage is over, that idea joins the rest in waiting. By this time, I usually have a title and main character names. The next stage might sound odd, but it's collecting a soundtrack. Music is intrinsically tied to my writing process. As I gather, sort, and listen to music on my computer, I create a very light outline of the book by linking songs with scenes of the book. This process takes years. The book grows with random progress as new scenes comes to me, mostly through the music. Once I have a large selection of music on the soundtrack, and the book has had plenty of time to grow, I start to think about the next stage.

For a lot the books that I'm currently writing, I went straight from the light music soundtrack outline to the writing stage. I hated the idea of forcing myself to outline my stories, when I already knew them so well. However, last year, I finally got over my resentment and started making more full outlines. This came from anxiety that I'd never have enough drive to write another full book after I'd finished the three I was working on. I did a full outline for The Town of Raindrops, which convinced me that the story really was ready for its first draft, and I really could make it happen. I also have a nearly finished outline for Magic Inc. Book Two, and I've started a few for other stories.

My first draft stage is an incredibly important part of the process. This is how most of the story comes to be. I've heard other writers say that their first draft often varies greatly from the finished book. This has not been my experience in the slightest. The first draft is the core of my story. All the important parts of the plot have already been figured out in the soundtrack and/or outline stage, so all I have to do is write! HeH. I said that like it was easy. Not really the case. The first draft takes years for me to write, because it takes a lot out of me. Now's the time to bring the characters to life, to make sure I hit all the important parts of the plot in the right places, and to make sure I'm instilling emotion into the text. The writing, itself, might be messy and raw, but it has the heart of the story beating within it.

Then, comes the second draft. Phew. By the time I get here with a story, I'm exhausted. I finished three first drafts last year, and it was so hard. In some ways, finishing a first draft is kind of a bittersweet goodbye. Saying goodbye to the story that was yours and yours alone. My stories don't change their core in the second draft, but they do become something I'm writing with the intention to share. I always write for myself every step of the way, but I am starting to make sure what I want to say and show is actually what's coming across to readers. The second draft is a polished version of the story. The wording usually improves greatly over the first draft. I also take this time to expand sections that go by too fast, add details where they are lacking, and try to make explanations clearer. I don't often cut sections out as much as give them a overhaul, if needed. But really, the plot changes very little. It's the same story it always was, just with a new coat of paint.

I've yet to go beyond a second draft, but I expect the rest of the process to be going over the text at least a few times for mistakes and typos. Right now, I'm finishing the revision of each chapter without going back over it at all, so I know I'll have some editing to do when the second draft is finished. Then, it will be tweaking any parts that need it, and hopefully, gathering more friends and acquaintances to read and give opinions. After that, I'll need to get my dear friend, Mallory, to help me put together a cover. And the rest... we'll see when we get there!

~

If anyone wants to join this chain, let me know! I'll post your info down here.