latest video
, and my responses to her questions were getting so long that I decided to turn this into a journal entry. It's been too long, I know. This is only my seventh entry for the whole year. And one was just an excerpt from Magic Inc. But hey, here I am, ready to share more honest, personal thoughts. I suggest you watch the video to understand the questions more in depth, and maybe, make your own list because this felt really cathartic to me. But that's up to you!
1. What's one thing you did that you're proud of?
I participated in my first author event/signing. Which was incredibly scary and required a lot of emotional preparation. But I think, considering how hard it is for me to do anything social, I coped well with it. And it was because it was something I really wanted to do, instead of something I felt pressured to do. Plus, I got everything ready ahead of time, which helped calm my anxieties a lot. That could be part of what I learned this year, as well. That giving myself enough time to prepare can really help my anxiety. It won't make it go away, but it does help. I've also put a lot of effort into my second book, and I feel like my writing has improved and I've figured out better ways of working that suit me and my process. It can be hard not to look ahead and see over half a book left to write, but what I have written is some of my best work to date. And it is because I am taking my time with it.
2. What's one mistake you made and the lesson you learned?
My mistakes are mostly personal, but I think, as always, I struggle too much with worry about what other people will think. I know myself and what I want, and I don't let anyone change that. I don't hide my true self, and I don't fake anything. But I still get triggered way too often by stuff I read on Facebook and the like that I feel is making a judgment on who I am (which sometimes is true, but is often just my perception). I also still judge myself based on other people's accomplishments far more than I ever spend celebrating my own. But I've never been good at celebrating myself, so I'm not sure how to change that.
3. What's one thing you're willing to let go of before the New Year?
I have lots of projects I still feel will find their way in the right timing, so I don't want to let go of them completely. I have been doing a lot of physical clearing in my life, though. Going through old clothes, jewelry, magazines, and various papers I no longer need. As well as making a habit of donating books, DVDs, and CDs I don't see myself revisiting. I'm a collector, so I like having a lot of stuff, but it's still important to check with yourself - will I use this again and/or does it have deep meaning to me? You don't have to save absolutely everything. Along with that, I'm trying to keep myself from feeling committed to finish any book series, video game, or TV series that doesn't really capture me. There are so many beautiful stories that will resonate with you, and there just isn't enough time to waste on stories that don't. I tend to try to see the best in creative works, and I have to remind myself that I don't have to like everything. And my not liking something isn't necessarily saying it's objectively bad, just not my cup of tea.
In terms of resentments and guilt, that's a lot harder to let go of. I've quarreled a lot with relatives in the last few years, finally having to block some truly toxic people. Ideally, you would be able to cut off toxic people without holding onto resentment, forgive and let go (without letting them back in to cause more damage). But that's rarely the case. And for those people who have hurt you without meaning to? The ones you want to forgive and move on with? Maybe that's even harder. And perhaps worst of all, when you're holding onto anger with a person you are currently stuck living/dealing with. Someone you would cut off for good if you could, but life isn't perfect and you have to deal with people you don't like sometimes. And you feel you can't really let go of that anger because you have to continue guarding against them. But at the same time, that anger is killing
you
, not them. "Holding onto anger is like drinking poison and expecting the other person to die." Ugh. So true. And yet that doesn't make it easier to let go. At least not for me.
Well, there you have it. I'm not sure I'm completely ready to let go of this year and move into a new one, especially knowing at least one bad thing January has in store. But I do feel like I've opened myself up more and given myself the opportunity to think deeply about all of this. Sometimes even I avoid feeling things if I can manage it. (I usually can't, but if I can... oh, man.) The year ahead scares me. But I encourage you all to follow your heart and intiution. To speak out against injustice. And to
be kind
. The world desperately needs it right now.

I was watching Marie Forleo's
Current Mood:

accomplished

Current Music:

Adele - Remedy
Magic Inc. was my childhood fantasy world. One I never expected to share. One I was scared to invite anyone into. But here it is, one year later. And nothing has exploded. No one has been overly disruptive or unfair in their judgment of the book. But it also hasn't taken off in any big, positive way. Maybe that's what the first year looks like for most indie authors. But it's hard not to get discouraged sometimes. Not to let the success I've yet to find get in the way of writing Book Two. When both your personal life and your "career" are having problems, it is doubly hard to fight off your anxiety and depression.
I do know that, in some ways, I am very lucky. I was able to print my books without putting myself or my parents into any kind of debt. I was able to get a beautiful, personalized cover for my books that some writers could not afford. And my family and old friends have all been supportive of me and my work. Not just now that I have something to show for it, but every step along the way. I mentioned in my
last post
that I've been reading some of my old fanfiction. I've also been reading some of the reviews I saved from those stories. "I don't doubt you will be an author," my friend, Mallory, says in one comment.
And now, I am. All the work I've put into writing since I was eleven has come together in my first book. First of many, I hope. I certainly have enough ideas to last a lifetime, if not two. Though I still get nervous. What if it just suddenly stops? I don't know how to write from a technical place. I write almost completely based on inspiration and intiution. That actually works for me, in spite of what many other authors will try to advise. I don't really think I could live without writing, but I do worry that I will somehow stop being able to put together whole books. I've already spent a lot of time working on (and worrying about) the outline for Book Three when Book Two isn't even done yet. Ah, I guess that's just life for an anxious writer.
I'd like to take this moment to thank anyone who has read (and particularly reviewed) Magic Inc. Or given me feedback on my writing at any point. It all led up to this. While I became an author only a year ago today, I've been writing for sixteen years. And it was all part of the journey to get to this point. I still have a long way to go, but I will try to step forward with faith that this is the path I am meant to take. When you're a writer, you have to write. It's just who you are.
Well, it's been a year since Magic Inc. Book One became available for purchase. It has been a very stressful, often traumatic year, so it's hard for me to revisit this milestone with much enthusiasm. However, Magic Inc. represents not only the five years I spent writing it, but the five years of planning before starting it, the many years spent honing my craft before that, and all the passion and pain I felt in my childhood that led to my writing in the first place.
Current Mood:

exhausted

Current Music:

Delerium - Euphoria (Firefly) (Rabbit in the Moon's Divine Gothic Disco Mix)


I'm also impressed that my 11 to 13-year-old self was able to write out multiple stories with foreshadowing, a prequel, and mostly original characters and plot elements. Fanfiction is where you can play freely just for fun and/or harness skills for writing your own original work. It was an important step in my journey.

When I was ready to move onto my own original work, I already had a strong sense of what I enjoyed writing about, I had improved technically, and I had already crafted some of how I wanted my version of magic to work. I ended up starting a bunch of stories I was really excited about, and when I discovered I wanted to connect all of them together into a whole universe, everything fit together naturally.

But I ended up abandoning many of those stories (at least temporarily) because I didn't spend enough time planning them out before I started writing them. They became more a backstory or behind-the-scenes for the few stories that really resonated with me from the start. The ones that basically formed themselves. Even if I never got past five chapters before I went back to fix the beginning again.

And then, I went through a pretty dark period, and I wasn't writing much at all. Even once I started coming out of the dark period, it took a long time (years) to really recover from that patch of creative block. During the recovery, I was writing again, but I spent more time in my head, playing with new ideas and how they could tie into my current stories. So much came together over the course of those years. But I still didn't have anything to show for it.

The last six years, I've really focused on writing. Fewer new ideas have captured my interest, and instead, most of my inspiration has gone straight into my current projects. It took over five years from writing the first words of Magic Inc. to getting the book published. I also had three other completed first drafts. But I still didn't feel like I'd done enough.

For a while, I was really frustrated at how long it took me to put my first book out. It still felt like I was years behind and barely keeping up. That feeling took over any sense of accomplishment. Now, looking back at the path I made for myself, I realize the years I took to form my world and hone my writing were crucial. Everything I worked on clearly led to where I am now, and none of it was a waste. I'm proud of my journey and the work I've created. And I'm looking forward to sharing even more of the vast universe inside my head with the world.

If only I could hold onto this positive feeling during the darker days… or inject it into other parts of my life.
I've been thinking about my "writer's journey" a lot the last week. How everything I've ever written or imagined has fed into my current work. I've been reading my first fanfiction series, and while the writing is beyond cringe-worthy and full of cheesy clichés, there's something about it that still resonates with me. I marveled both at how far I've come and how, at the core, I'm still trying to tell the same story. Whether I call the main character Val or Valerie or Jane, I'm still trying to write my truth. And it's still what feels the most right.
Current Mood:

creative
Current Mood:

hopeful
"The day came when the risk to remain tight in a bud was more painful than the risk it took to blossom."

It's weird, being that person who doesn't change much, watching other people change or talk about big changes. How they aren't the same person they used to be. It baffles me. It makes me feel different. Other. Just like I always have. Being alienated as a child actually helped me to get to know myself much more quickly than most people.

I know not all changes are bad. Sometimes people have to shift over time to be the person they were meant to be. And that's okay, for some people. But the thing is, I've basically always known who I was. There were things about myself and what I believed in that I tried to deny to fit in better, whether with classmates or the church or whatever. But deep down, I knew how I really felt. Dropping out of school gave me the chance to accept myself as I am.

I always knew what I wanted to be, too. I've been a vegetarian since thirteen. A writer since ten. A make-believer/story-creator much longer than that. And searching for my soulmate as far back as I can remember. (Maybe what I've been looking for has changed a bit over the years, but it's only that I realized I deserved better. Someone who really loved and understood me.)

It's good, knowing yourself so well; it's constant and reliable. Though knowing who you are doesn't mean you never have doubts. It doesn't make everything else just fall into place, either. It doesn't mean you don't have limitations. The same ostracism that helped me know myself also left wounds that have handicapped me all these years later.

I am still young Jane Roberts. I'm still that nine-year-old girl with all of that passion and anxiety. I still rely so much on my Mother and can't be on my own. I'm still terrified of so many things (mainly people), and I'm just as lonely as I ever was. Maybe more-so after closing myself off so far away from people.

When I was young, I always felt older. Like I understood more than everyone else. Maybe every kid feels that way. I probably actually knew far less about life than the kids around me. But I did, at least, know more about myself than most of them could understand.

Now that I'm an "adult", I feel more like a teenager than I ever did at that age. I feel like I never developed past the age I left school. I am twenty-seven, and I barely feel seventeen. And I know I'm not alone in not feeling my age either, but few people are actually in the exact same situation they were in ten years ago. They are not as stuck as I am. They are not as crippled and ruled by anxiety as I am.

But through all this, I know who I am. And I love that person. I don't want to be anyone else.

"Your time as a caterpillar has expired; your wings are ready."

It doesn't mean I don't want my life to change. I'm dying to break free of the bud, to spread my wings and fly. But wanting it doesn't make it happen. Everyone wants to say that your only limitations are the ones you give to yourself. That you can choose to be happy.

Do you really think I wouldn't choose to be happy if I could choose that?

The truth is that mental and emotional illnesses are just as real as any physical limitation. If I could live on my own, I would. Believe me. At this point, I am absolutely sick over having to live in the situation I'm in. I feel so trapped I can hardly breathe.

I don't want to be normal anymore (though sometimes I still think I do). I have always had my own path to follow. And that's good. I wouldn't change that now. I love who I am, flaws and limitations and all. But I want a better, happier life. I want to break free from the circumstances that have held me in like a closed bud, and fly.

But I cannot fly on my own.
Current Mood:

depressed

Current Music:

The Civil Wars - Dust to Dust


That soul-baring part, I believe, is making Book Two an even better novel than Book One (so far). I feel like I'm able to do some of my best work when I'm writing about all the passion and pain inside of me. But that sometimes makes it very difficult emotionally. I'm getting close to writing scenes that represent more of the bullying and isolation that I went through in school. And I'm scared. I'm scared of triggering myself. I'm scared of misrepresenting things that happened to me, because I've blocked out a lot of the details. (But the feeling. Oh, the feeling, I will never forget.)

But other times, I can't get enough of writing my Soul Truth. Especially when I've been going through a lot. And when I'm working on parts in-between, I get frustrated and (almost) bored. The difference? I love writing scenes with Chaz. I love letting Jane be able to open up about how she feels and things that have happened to her. The scenes get emotional, often more than I even plan, but it's more cathartic. When Jane talks to Chaz, she feels safe. And I feel safe. It's not as much reliving the pain as healing it.

The story needs both the experience of the trauma and the healing. But I've been through the trauma already, so I much prefer the healing.
Sometimes I get overwhelmed by the power of art and story. Sharing our stories is an integral part of how humans connect and empathize. There are so many stories that have touched my heart, and I want so much for my stories to be that for my readers. Then I think, can I really finish another book? Particularly one so personal? It's true that I was thinking that about Magic Inc. Book One, as well, but Book Two is even more personal and soul-baring.
Current Mood:

creative

Current Music:

Anna Nalick - Soldier
You already want another book? Do you know how long it actually takes to write a book? I mean, I know some people can 'write a book in a month', but I am so not one of those people. My first book took over 5 years to finish (not counting the planning stages), and you seriously already want another?
It's such a well-meaning question to freak out over, I know. It's great to think people actually might care about my writing. But it's funny how it's mostly the people who haven't actually read my first book who ask it. People who have read the book only say they're looking forward to the next book. They don't usually ask directly about when the next book will come out. Which is much less stress-inducing.
But when people do ask about the next book, I have to tell them that I don't even know what the next book
is
. It's totally reasonable to imagine that 6 months later a writer would be working on her next book. And don't get me wrong,
I am
. It's just, as usual, I'm actually working on
several
next books. And I don't know which one will actually be the very next.
Dreaming in Shadow
is the furthest along. But Book Two of
Magic Inc.
still gets the most attention from me and is catching up. Sound familiar? Well, if you're not aware, I was having this same issue a
few years ago
. Yeah, Dreaming in Shadow versus Magic Inc. again. I guess it makes more sense now to work on the series I've already started. But back then, it made more sense to finish Dreaming in Shadow first, and that's the opposite of what happened. So, maybe, that will be the case again? Or maybe, I'll be having this conversation
again
when I'm working on Book Three. :/
All of this is really an non-issue right now, though. I haven't felt well enough to work much lately. So, that's part of why I've been so quiet online. I haven't had much positive stuff to report, so I've kept quiet. But then I remembered that I meant this journal to be an honest look at my life, both good and bad. Just because I have a book out now, doesn't mean everything I write in here has to be part of some marketing dance. In fact, that's the last thing I want. But after announcing the book release, I was so nervous to write my next journal entry... that I let it go on this long.
Now I want to tell you, future authors who also have anxiety/depression, that you are going to go through times where you will struggle to feel well enough to write. Even when you've released a book after years and years of work, you don't magically feel better. You don't get to erase the struggle out of your journey to your next book after you become "a professional". Some things definitely get easier, though. You do know that you
can
do it; you
can
make it to the other side. At least, most of the time you know. Sometimes, you look at all the work ahead and get just as overwhelmed as you were the first time around. You look at authors who release a book (or more) a year and have no idea how they do it. But you don't have to be them. You only have to be you.
Sometimes you won't feel well enough to write. But it will come back.
And my next book? It will be out when it's done.

There's a moment when someone asks that question where my mind begins to panic.
Current Mood:

thoughtful

Current Music:

Sara Bareilles - Breathe Again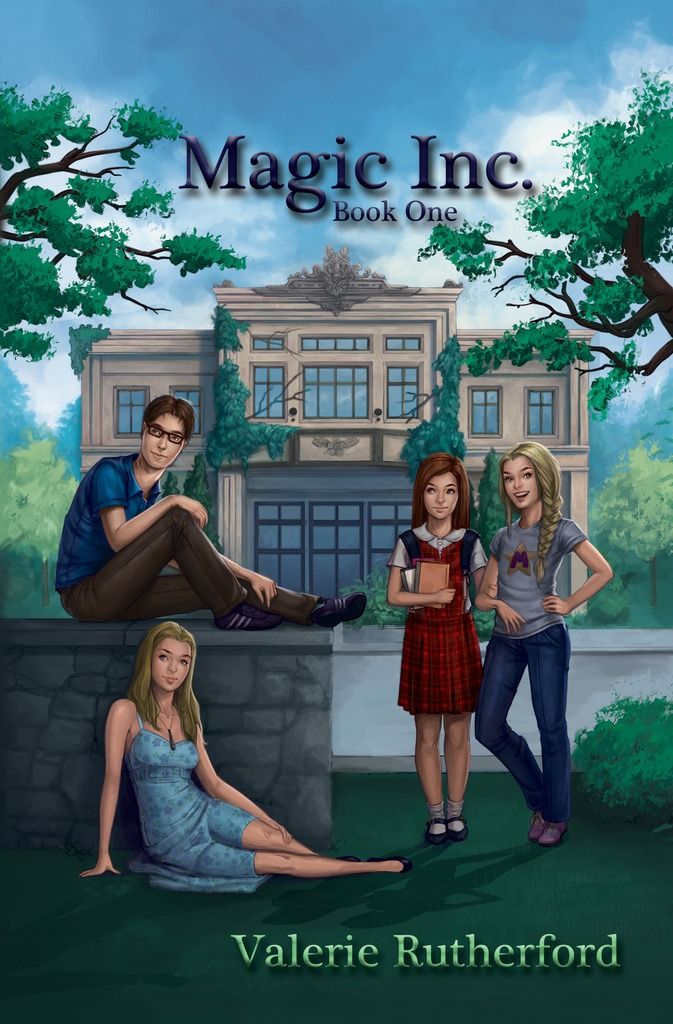 Jane Roberts never fit in. After years of teasing from her classmates, all she wanted was to blend in and be normal. But on Jane's first day of fourth grade, her life changes completely when the new girl, Jenny, brings with her arrival the secret of magic. Jane goes into training, where she learns the ins and outs of magic and its great history. But not even magic can top the feeling Jane gets when she meets Chaz Parker, Jenny's older brother. She's head-over-heels and wants to be with Chaz forever, but a nine year age difference makes Jane wonder if he'd ever look at her that way. Between learning magic and falling in love, Jane's year is bound to be anything but normal.
You can now buy a copy of Magic Inc. in eBook! I will continue to update with new links.
Amazon
(for Kindle!)
Barnes & Noble
(for Nook!)
iTunes
(for Apple Devices!)
Smashwords
(Most Formats Available!)
Current Mood:

accomplished

Current Music:

Paramore - Turn It Off
When you get this ask, list 5 things that make you happy, then send it to the last 10 people that liked/reblogged something from you :)

I decided to repost this here since I ended up writing a lot and wanted to share with more people.
So, you may or may not know, but I struggle a lot with the word happy. If I use it, like I did yesterday, I usually say "I'm happy to" or "I'm happy with" not straight up "I'm happy". Because I have never felt the kind of happiness that gets down deep in your heart. I've always felt lonely and scared of being even more alone in my future. And this is getting awfully mopey for my being in a decently good mood. Sorry.
But here are some things that make me happy-ish and have gotten me through hard times:
1. Working on Magic Inc. Writing, in general, feels great as long as I don't try to force it and just follow my inspiration's lead. But Magic Inc. feels even more special than my other stories because it allows me to relive my childhood fantasies and work through some of my deepest feelings in text. That also makes it scarier to eventually share that story with other people. (And soon.) But hopefully, it will reach people who can relate to it.
2. The Sims. I love The Sims. I love making characters on there and "work" stuff like that. But I also love just playing. I'm constantly making stories in my head while playing Sims, and occasionally, they end up as some part of my fictional universe. But just being able to create stuff that's just for me is a good creative exercise. I get to create without any pressure.
3.
Giant Bomb
. I can't tell you how much Giant Bomb (and older GameSpot) videos and podcasts have helped me get through rough periods in my life for the past ten years. The
Persona 4 Endurance Run
is something I go back to time and time again, and I kind of can't imagine my life without these dudes in it, as silly as that may sound. Losing Ryan Davis was so hard because it felt like he was a distant friend.
4. Having a great therapist/mentor. Jill is a key part of my life. She's encouraged me to be myself and follow my dreams. There's no way I'd be getting ready to publish my first book right now without Jill to read everything I've written and to give me her honest feedback.
5. Watching through TV shows with my Mom. Since my great emotional crash of 2010, I've usually spent a few hours every night, during my most emotionally vulnerable time, watching TV shows with my Mom. This idea has greatly improved as we realized that watching shows from the beginning through DVDs or streaming is much more fun than just seeing what's on and having to choose from that. We've watched through almost 25 shows over the last few years, and we have fun making silly references to each other.
Current Mood:

pleased

Current Music:

Britney Spears - Out from Under