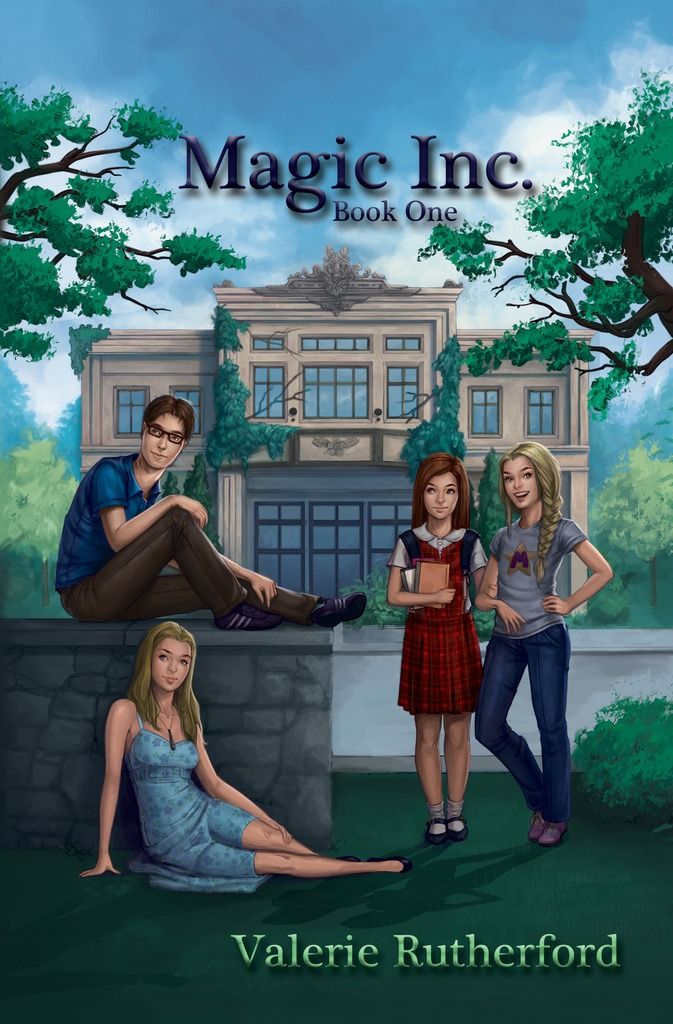 Jane Roberts never fit in. After years of teasing from her classmates, all she wanted was to blend in and be normal. But on Jane's first day of fourth grade, her life changes completely when the new girl, Jenny, brings with her arrival the secret of magic. Jane goes into training, where she learns the ins and outs of magic and its great history. But not even magic can top the feeling Jane gets when she meets Chaz Parker, Jenny's older brother. She's head-over-heels and wants to be with Chaz forever, but a nine year age difference makes Jane wonder if he'd ever look at her that way. Between learning magic and falling in love, Jane's year is bound to be anything but normal.
You can now buy a copy of Magic Inc. in eBook! I will continue to update with new links.
Amazon
(for Kindle!)
Barnes & Noble
(for Nook!)
iTunes
(for Apple Devices!)
Smashwords
(Most Formats Available!)
Current Mood:

accomplished

Current Music:

Paramore - Turn It Off
When you get this ask, list 5 things that make you happy, then send it to the last 10 people that liked/reblogged something from you :)

I decided to repost this here since I ended up writing a lot and wanted to share with more people.
So, you may or may not know, but I struggle a lot with the word happy. If I use it, like I did yesterday, I usually say "I'm happy to" or "I'm happy with" not straight up "I'm happy". Because I have never felt the kind of happiness that gets down deep in your heart. I've always felt lonely and scared of being even more alone in my future. And this is getting awfully mopey for my being in a decently good mood. Sorry.
But here are some things that make me happy-ish and have gotten me through hard times:
1. Working on Magic Inc. Writing, in general, feels great as long as I don't try to force it and just follow my inspiration's lead. But Magic Inc. feels even more special than my other stories because it allows me to relive my childhood fantasies and work through some of my deepest feelings in text. That also makes it scarier to eventually share that story with other people. (And soon.) But hopefully, it will reach people who can relate to it.
2. The Sims. I love The Sims. I love making characters on there and "work" stuff like that. But I also love just playing. I'm constantly making stories in my head while playing Sims, and occasionally, they end up as some part of my fictional universe. But just being able to create stuff that's just for me is a good creative exercise. I get to create without any pressure.
3.
Giant Bomb
. I can't tell you how much Giant Bomb (and older GameSpot) videos and podcasts have helped me get through rough periods in my life for the past ten years. The
Persona 4 Endurance Run
is something I go back to time and time again, and I kind of can't imagine my life without these dudes in it, as silly as that may sound. Losing Ryan Davis was so hard because it felt like he was a distant friend.
4. Having a great therapist/mentor. Jill is a key part of my life. She's encouraged me to be myself and follow my dreams. There's no way I'd be getting ready to publish my first book right now without Jill to read everything I've written and to give me her honest feedback.
5. Watching through TV shows with my Mom. Since my great emotional crash of 2010, I've usually spent a few hours every night, during my most emotionally vulnerable time, watching TV shows with my Mom. This idea has greatly improved as we realized that watching shows from the beginning through DVDs or streaming is much more fun than just seeing what's on and having to choose from that. We've watched through almost 25 shows over the last few years, and we have fun making silly references to each other.
Current Mood:

pleased

Current Music:

Britney Spears - Out from Under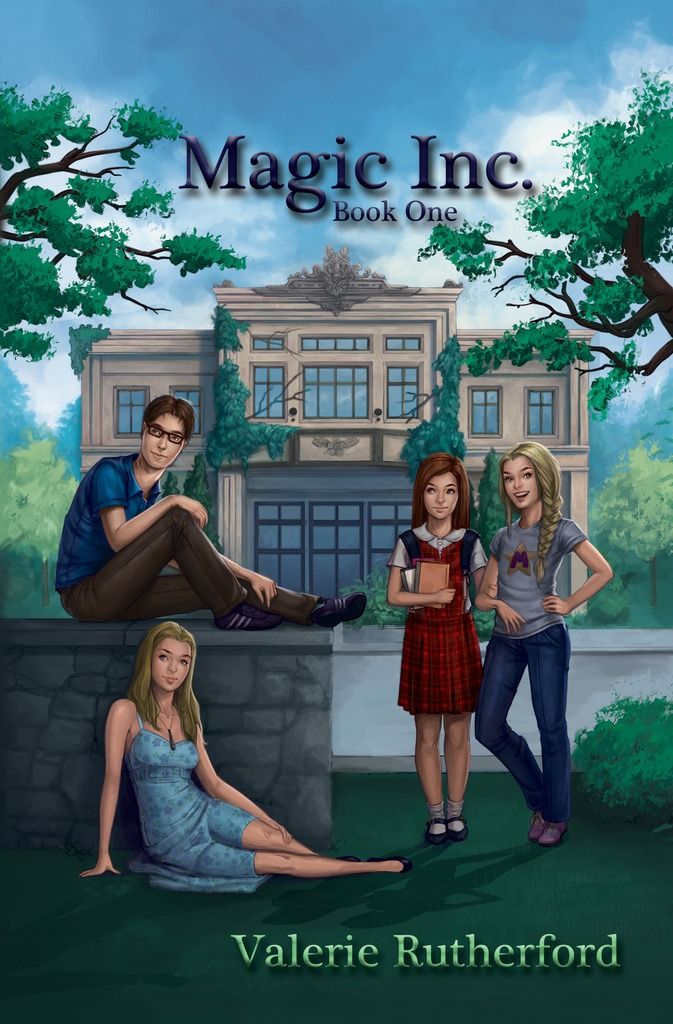 Just wanted to pop on and share the cover of Magic Inc. drawn by the amazing
Giselle Ukardi
! Hopefully I'll have some news about a release date soon. Editing is going well, and I'm really excited. Nervous, still, too. But hey, that's how it usually goes. Follow my
Facebook
and/or
Twitter
for more news.
Current Mood:

excited
Let's try breaking this up into sections. Here are some things that have been happening the past two weeks...
I finished Magic Inc.'s second draft. I felt sad afterward, but that was bound to happen. I'm not sure there's much else to say than that.
I moved on to seriously editing it. So far, I think it's going well, but the stress of things being near the end has been draining my energy. A lot.
I found an artist. I posted an ad on the Deviantart forums and got an overwhelming amount of responses. Everyone was so talented, but only a few had the style I was looking for, and only one seriously pulled me in. She is such a wonderful artist, and she was willing to really get to know the characters. We've talked about the cover and made some plans, and hopefully, it is all going to work out.
Today, I asked Christen to give me a little makeover for some author pictures. We went to the park, and the sky started sending out these tiny hail stones. But eventually, it calmed down, and we got the pictures. I'm not the most photogenic person, but helped by the makeover, we managed to get some good pictures.
I then came home and made an
official Facebook page
. Which was the point of those photos.
It's clear, looking at that list, that I've gotten a lot done, but my head's been all over the place. I haven't had a panic attack yet, but I've come pretty close. I keep thinking... what if I do all this and nobody cares? I also haven't been sleeping well. I'm sleepy all morning and afternoon, then restless at night. I mean, I'm tired at night, too. I just have trouble getting to sleep.
All I keep coming back to is that I'm overwhelmed. Even the positive things that are happening are getting translated by my brain into anxiety. But hey, that's nothing new. I just need to calm down and get some rest. Sometimes it's good to just step away from your big project so you can build up some new energy and inspiration to bring to it. I feel like that's what I need to be doing right now. I really want to get this book out by summer, but I have to keep reminding myself that I know better than to push it.
And yeah, this post wasn't particular short either. Oh, well.
I'm going to try to actually make this a short one since it's getting late, and my eyes are sleepy.
Current Mood:

restless


It would be so much easier to put Dreaming in Shadow out there first, because for as much as Jodi and I are similar, she is not me. Her story is not about me. Dreaming in Shadow was always a book, meant to be shared with readers. And I have been sharing that story, in its many versions, for over ten years.

Magic Inc. was never meant to be a book. It was the world that keep me going when there was nothing hopeful in my reality. It is so deeply personal that I keep asking myself, "Why did I decide to make this into a book? They'll never understand it." But it became so key to the rest of my universe that it wouldn't make any sense to take it out now.

I'm very behind living your truth, being yourself completely, and not faking anything. I don't mind sharing my deepest thoughts in blogs or tweets, because I'm not ashamed of my own truth. But it's different with this because people - readers - seem to think they own a story just because it's been shared with them. They don't understand that, at least for some writers, writing is pulling words right out of your soul. Saying a story belongs to the readers, to me, is like trying to claim an experience as your own just because someone confided in you about it. I want to share my world with readers, and I feel like I'm meant to do that. But this story is mine, and it always will be mine. People can like it or dislike it; it's not about that. My fear are the people who'll try to say "it shouldn't be this way" because they think they know better than I do about my own creation. People who will think Jane's feelings aren't realistic, even though they were my own.

It was one thing for someone to not like Jodi and basically say she was a bad person. Jane is me. This story is my story. And anything more than a "this is not for me" is going to hurt a lot worse than criticism for any other story. So, why does it have to be my first book done? Why was there such a pull in me to make this story into something I could share? I seriously feel like there's a chance this series will appeal to NO ONE. Yet I had to write it. More than nearly anything else I've worked on. What does that mean?
It's hard to focus on this last chapter of Magic Inc., mostly because of all the stuff that comes after it. Editing and sharing and formatting, and I still can't figure out what I'm going to do about a cover. I'm partially excited to share this story with people because I've put so much work into it the last five years, but I'm really not sure if I can trust the world to understand my innermost thoughts. And that's what a lot of Magic Inc. (the series) is.
Current Mood:

melancholy

Current Music:

DHT - Listen to Your Heart (Edmée's Unplugged Vocal Edit)
I bet some people will think that means I'm "going backwards", because they think I should be getting out around people
more
. But it never feels like progress to me. It doesn't make me happier. Honestly, it rarely feels worth the stress to me. It's not worth the drained/depressed feeling I get afterward either. It
is
very nice to do things with friends and family from time to time, and I wouldn't want to stay away from being out completely or anything. But I chose what I wanted to do much more carefully over the winter. Which left me a lot more energy for writing. And now, I'm one chapter away from finishing Magic Inc.'s second draft and moving fully into the editing phase. I really think I'll be able to have the book completely done in a few months. As long as I don't have another emotional crash...
That's the other thing about spring; it leads to summer. And summer is not a typically good time for me. Neither is my birthday at the end of May. And I'm scared; I'm so scared. Last year I made it through summer and crashed in the fall instead. But it was horrible. It felt like one of the worst I've ever had. Winter allowed me to pull away from expectations and just focus on recovering. And I ended up doing more than that. The freedom from the whole "getting outside of your comfort zone" thing so many people preach actually granted me more progress. I work better when I
am
comfortable and not under pressure. That's just how it works for me.
But the nice weather is back, and so are the expectations. Not just from other people, but from myself. Winter is often about survival. Spring is about wanting more. And I do want more. I want to find Morgan. I want deeper friendships with people who understand me. I want my writing to reach people. But I may not get any of those things. At least not any time soon. There's a pressure building in me, whether I like it or not, for things to change. For finishing a book to be more than finishing a book. For it to be some kind of catalyst in my life. To break free of the
ten-year cycle
. I know who I am, and I know what I want. I want to move forward. But I need to move forward
my way,
at my pace.
Towards what I want, not what others think is best for me
. That's what winter taught me. To take better care of myself.
I decided at the beginning of winter to figure out what was good about it. To let time go forward and not fight the seasons so harshly. Now, I need to figure out what spring can offer. I don't know what that will be yet, but I don't want to forget what winter gave me in the process. I want to learn to appreciate each season for what it is and respect the flow of time, working with it instead of against it. Wish me luck.
I know it sounds crazy, but I'm not all that happy that spring is here. Don't get me wrong; I like the flowers and the fresh air and being able to wear my normal clothes out again. But something weird happened this past winter. I decided not to care. Not to go out much. Not to force myself into things. Winter was the perfect excuse to stay home and save my energy for writing. And my goodness, did I get a lot of work done. It's amazing what you can do when you're not feeling drained from forcing yourself to be out around people.
Current Mood:

pensive

Current Music:

Maaya Sakamoto - Gravity


I've figured out a lot about myself by pulling away from the normal path, and though I certainly still have things to work on, I mostly like what I found. I know exactly who I am, and I don't pretend to be anything else anymore. I try to love myself, even when it's hard. I understand how I work best. I know enough about myself to decide on what's best for me, instead of what other people project as being the right/only way. I know I only have so much energy, and I try to use it wisely. If I were still striving so hard to be "normal", I wouldn't be able to focus on my writing because that would take most of my energy.

There are still things I need in my life to be truly happy. My heart is still waiting for that person to have the deepest of connections with. I struggle with loneliness for friendship as well. Sometimes, I still miss everything I lost when I left school. But in leaving, I really did find myself.

I'll probably be sad about this for a few days. Maybe even a week. That's just natural. I'll find ways to cope, and I'll move on. It's funny, though, that this anniversary comes just on the edge of completing my first book. It's hard to tell if releasing Magic Inc. Book One will really change my life in any big way, but there is at least that possibility that something good could come of this. I'll try to hang onto that hope.
I had a bit of a stressful dream last night about school and feeling left out when my high school class graduated. Now, I realize why. Today was the last day I went to school ten years ago. Yeah, ten. That's a long time. For a while, I blamed myself for not being strong enough to carry on, but I've realized that I did what I had to. The longer I put off getting help would've just meant it would take longer to get where I am today. I still can't quite say that I'm happy, but I do have hope. I have a purpose, work that feels important. I have a therapist who became my biggest encouragement in getting back in touch with that purpose. I finally found a medication that helps to stabilize me without bad side effects or a numbing out of emotions.
Current Mood:

melancholy

Current Music:

Better Than Ezra - At the Stars


Music by Evanescence

Are you a male or female or non-binary: Snow White Queen
Describe yourself: Fields of Innocence
How do you feel: My Heart is Broken
Describe where you currently live: Heart Shaped Box
If you could go anywhere, where would you go?: Lost in Paradise
Your favorite form of transportation: Secret Door
Your best friend is: Missing
You and your best friends are: Farther Away
What's the weather like: Call Me When You're Sober
Favorite time of day: Before the Dawn
If your life was a TV show, what would the title be?: Bring Me to Life
What is life to you: What You Want
Your Relationship: Imaginary
Your fear: Solitude
Using only song names from one artist/band, cleverly answer these questions.Try not to repeat a song title. It's a lot harder than you think! I pulled this from Tumblr, but if you want to do it, post it anywhere you want.
Current Mood:

sleepy

Current Music:

Evanescence - Missing
last
few
years
, I've written up long resolutions/intentions for the year. I don't think I'm going to do that this year. That doesn't mean there aren't things I want to accomplish this year. There are plenty of things I'd love to do. I've even done a pretty fair job at accomplishing last year's goals.
I finished my big cleaning project by the end of May. (Which was exhausting and made me
reevaluate
my goals for the rest of the year.) I might not have had as epic of a writing year as 2013, but I certainly put a lot of effort into it, getting Magic Inc. revisions 3/4 of the way through and finally pulling Dreaming in Shadow through some successful revisions as well. Another year passed without seeing the end of Miss Masquerade's first draft, but I really have only
one
chapter left. I
read way more
in one year than I ever had before. I even put some major effort into exercising, though that was completely derailed by my
yearly breakdown
and still hasn't gotten back on track.
The truth is... I want the same things every year. The specifics may shift; this story over that story and such. But the core of what I want is the same. Writing, friendship, health. And Morgan. Always Morgan. Finding my soulmate and getting to live a happy, passionate, and safe life with him is always what I want the most. And I've gotten signs from the Universe over the years that finding him is somehow tied with writing, possibly even completing a story. Sometimes that motivates me and other times it
crushes me with pressure
. Still, I figure if I keep following the guidance I get along with my own intuition I'll find my way to him. I have to. It's too important that it happens. It's everything to me.
But I have to stay away from pressure, because it breaks me. I have to be
free to breathe
and follow my truth and guidance. So, this year... I don't know if I'll complete the second drafts of Magic Inc. Book One and/or Dreaming in Shadow. I don't know if I'll have something ready to publish. I don't know if I'll be able to get a focus back on health. Or find the better balanced friendships I'm always craving. I don't even know if I'll meet Morgan (yet). But I'm going to focus on the core of those things. And try to believe everything, including me, is as it should be... and on the way to becoming even better.
The
Current Mood:

thoughtful

Current Music:

Delerium - Euphoria (Firefly)